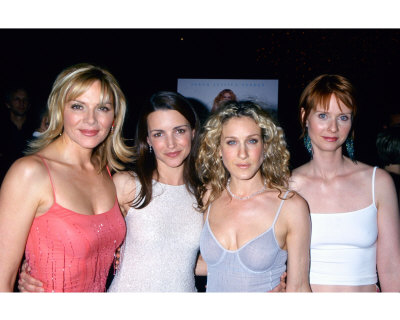 (This is my 100th post on The Quest For 50)
It's been a pretty good week. I'm hitting my stride again. Mostly I am just dialing back and not chasing girls, while keeping them in my orbit in a non-needy way.
I wish I had the time to fully analyze all of these events and give you the "director's commentary" and guidance so you could understand all the game principles behind them.
Try to read between the lines and I'll answer questions in the comments section.
****
Saturday: I went out in New York, and this hot model girl I went to college with (but barely knew back then– re-met her a few months ago and we got along well, though we never hung out alone) was supposed to meet up with me. She never did, so I hung out with some friends. I met a few bitchy girls, and finally one cool hot one.
It was her birthday, and she was in a fun mood. I told her I live in LA and she got really excited, since she went to UCLA and was about to fly there to visit on Monday (the same day I was flying back).
After a few minutes we walked over by the bar and the group started dancing. I grabbed her and she moved her beautifully curved ass against me while wrapping her arms around me behind her, pulling me in tighter.
Only a few seconds into this sweet bliss, one of her friends– who can only be described as a "rolly, polly little bat-faced girl"– grabbed her hand and whispered something in her ear. After that, the birthday girl wouldn't even look at me.
I tried to dance with her one more time, and a different friend cut me off. She leaned over her shoulder and said, "She's not feeling it. Sorry to be the one to break the news. Just leave her alone."
It was bullshit because I had even befriended the main guy with the group, and he was totally supportive of me railing the birthday girl. I guess I needed to win over EVERYONE in the fucking group…
Actually I was only hanging around them because my friend had left with his girl. I was there alone, but I should have just kept circling through the bar instead of seeming clingy. That would have helped influence the outcome positively.
The week has gotten much better since then.
****
Sunday: My second and final night in New York, I met up with a girl I went to middle school with, who I hadn't seen in years. Her boobs grew 8 sizes since then. That's an estimate.
I wanted to watch the Oscars at her place, but her twin sister was sick and infecting the whole place. We went to a bar, and there wasn't enough seating, so I led her back out into the night.
We explored the neighborhood and bounced to a few bars, all while I maintained a cocky, fun and aloof attitude. She increased her kino on me, and she even bought the first round of drinks without prompting. I complimented her on being "such a gentleman."
I had to fly early the next morning, so I cut the night short. I walked her back to her place and played a fun game to get the first kiss:
I'd been teasing her about moving to LA to become an actress (and how bad her acting skills are), and as we walked down her block she made a comment about fighting someone.
I grabbed her hand and stopped her in the middle of the sidewalk. "Show me your intimidating look," I said.
I gave her a cold stare, and she kept trying to be intimidating back, and laughing. As she kept laughing, I kept moving in closer and closer to her, not breaking eye contact, saying, "Come on, show me your tough face."
Finally I was right in front of her, and I just had to lean forward slightly to kiss her. I gave her one quick peck so she knew it was on, and then I wrapped my arms around her and went in for the real kill.
After a few moments of making out, I grabbed her hand and said, "Come on," hoping she would just lead me right upstairs. She said, "That was very sly of you…" I just smiled.
We got to her door and she said, "Okay, goodnight." I half-assed tried to get upstairs, but my heart wasn't in it. I knew I had to be up in a few hours and then go straight to work after my 6-hour flight, so there was a part of me that knew I shouldn't expend the energy to bang this girl this night.
We made out for a solid 5-10 minutes in front of her door, and she grazed her hand over my cock a few times, as I did the same to her breasts, and squeezed her ass. Then I got out of there. She texted me a couple times after saying she was pleasantly surprised at the turn of events that evening…
****
Tonight I went out to see my friend's band play, in a social group I have become the distinct alpha male of. The biggest benefit of this group is that they are very tight-knit, with the same people often showing up, so I can use No Call Game with super effectiveness.
This term was coined by Roissy and is exactly what it sounds like. You get a girl's number, and then you do nothing. The idea is that you keep doing this over and over, and eventually you run into one or more of the girls you never called.
Instantly, your relative value to hers skyrockets. You've proven you aren't needy at all, that you have an abundance mentality, and that you are not excited about her or hung up on her. When you get a hit with this, it works magic.
In this social circle, there are currently 3 girls I'm no-calling. One of them (an Asian!) I made out with furiously the night we met. Now she is very shy around me, and I could probably hit it whenever I choose.
Another is somewhat frumpy, though her curves would be enjoyable for a night. I got her number as more of a friend thing, but I'm saving it for a rainy day. She's way down the queue though.
The other girl is the one I kissed tonight. I'll call her Halfie. I got her number at a party about 2-weeks ago. She's a petite half-Irish and half-Malaysian. Pretty cute mix.
As I was watching my friend's band perform, I saw Halfie come into the room out of the corner of my eye. She joined a group near me, and eventually was standing right behind me. At that point I knew it was on. Proximity Cues: pay attention to them. They come in handy in supermarkets and department stores.
In between songs, I turned around and greeted her warmly. We talked for a few moments before the next loud song began. Then I caught up with her amidst the mingling group after the show.
I increased my flirtatiousness as we went along. And by this I mean I became more daring with my physicality, I became cockier, I became funnier, I talked a lot about her, I touched her, I simultaneously complimented and dismissed her beauty… I demonstrated a comfort with sexuality.
This is all a state of mind. Ultimately there is no formula. Just be.
****
While all this was going on, I had already gotten a much hotter girl's number at the bar. When I first walked in I had 30 minutes to kill, and I walked right for the pool table where two hot girls were playing.
I joined their game, and didn't sink one ball. I'm actually pretty good, but the fact that our game kept going indefinitely gave me plenty of time to talk to them. I'm sure they think I suck at pool, but now I have a hot chick's number. By the way, her name is "Jen 6.5″. She's actually an 8 though.
Some key moments… I made intense eye contact with her for the 2 minutes before I had to go watch my friend's band in the other room. She began asking me question after question about myself, and was glad to give me her number.
Her and her friend popped into the music room for a few minutes when the band was still setting up, and we had a good further conversation. She tried to give me a high-five at one point, and I commented on how bad she was at doing that. I said it was because women have worse hand-eye coordination. She got all indignant and said, "On that note I think I'm done talking to you."
Her friend grabbed her and led her out. I just smiled and walked back to my group of friends. I truly believed I had done no wrong. I knew I was still in good shape because she looked back over her shoulder and smiled at me as she left.
Before I went home for the night, I found her at the bar again. She was talking to two "hot" guys (tall, athletic, fratty looking… the type of guy I used to feel inferior to) but I just walked right in between them and looked straight into her eyes. I completely monopolized her attention with my steady tone and body language.
We talked for a few more minutes, bringing up some of our new "inside jokes" from throughout the night. Earlier on I had told her I had to figure out a name for her in my phone, since she wasn't the only Jen. She suggested Jen (Bar Name), which is what I was doing anyway.
She jokingly mentioned how she doesn't have that problem since she doesn't give her number out a lot (could be true or not, who cares?) and I said I get a lot of numbers, so I have to have a very detailed cataloging system. I jokingly told her it was usually "the girl's first name followed by her ranking on a one-to-ten scale."
She shook her head and said, "I'm gonna pretend you didn't say that." I smiled and walked away.
Now back to the end of the night, I told her I'd talk to her soon. She said, "You have my number" and smiled. I said yeah, "Jen 6.5″. I laughed and touched her arm as I walked away.
****
Then I walked downstairs toward my car. On the stairs, I ran into Halfie and another guy friend of ours. I thought they were leaving together.
We get outside and he says, "Well, my car is this way…" so he takes off. I tell Halfie I thought they were leaving together. She says, "No, but we are making a music video together." I say, "That's even more special than a baby." She gives me a funny look.
I get to my car and tell her this is me. I give her a hug and then linger close to her for a second. I can feel the electricity as we both freeze for a moment, realizing that we both want to kiss.
I move in with a light kiss to start again, then pull back and smile. "I think you're pretty cute," I say.
"I noticed," she says.
We then make out for a few minutes. We pull back and say our goodnights.
I say, "I think I have your number, don't I…" like I'm not totally sure.
She says, "Yeah. You do. Use it this time, you get one more chance."
"Oh really?" I smile. "We'll see…"
****